GWPF | 10 Feb 2016
The Collapse Of El Nino Is Underway
The collapse of El Nino in the tropical Pacific Ocean has begun and it will be rather dramatic. The current strong El Nino event reached its peak intensity level in December 2015 and all indications suggest it will completely flip to La Nina conditions by later this year. One of the important consequences of the current strong El Nino event in the equatorial Pacific Ocean was a spike in global temperatures. However, if recent history is any guide, expect global temperatures to drop sharply after La Nina conditions become well-established in the tropical Pacific Ocean – likely during 2017 and perhaps beyond. –Paul Dorian, Vencore Weather, 5 February 2016
1) The Collapse Of El Nino Is Underway
Vencore Weather, 5 February 2016
2) U.S. Supreme Court Blocks Obama's Climate Change Rules
The Wall Street Journal, 9 February 2016
3) U.S. Supreme Court Halts Obama's Green Crusade
The Washington Times, 9 February 2016
4) Bonkers: Pentagon Orders Commanders To Prioritise Climate Change In All Military Actions
The Washington Times, 7 February 2016
5) And Finally: Bored Dogs, Ripped Furniture – Blame Climate Change
Jo Nova, 6 February 2016
A divided Supreme Court on Tuesday temporarily blocked the Obama administration's initiative to limit carbon emissions from power plants, dealing an early and potentially significant blow to a rule that is the cornerstone of President Barack Obama's efforts to slow climate change. The court, in a brief written order, granted emergency requests by officials of mostly Republican-led states and business groups to delay the regulation while they challenge its legality. Although the Supreme Court's order is temporary and isn't a ruling on the merits, it indicates the court's conservative majority harbors misgivings about the Obama administration plan. It signals the rules could run into trouble in the courts, which could hamper the administration's ability to follow through on U.S. commitments in the Paris climate deal. –Brent Kendall and Amy Harder, The Wall Street Journal, 9 February 2016
The Supreme Court halted the EPA's major anti-global warming initiative late Tuesday evening, dealing a major blow to President Obama's hopes of overseeing a green energy transition in his final year in office. The 5-4 decision by the court puts the Environmental Protection Agency's regulation on hold while a lower appeals court hears states' challenge to the rules. While Tuesday's stay isn't a ruling on the actual merits of the EPA's regulations, energy industry backers said it suggested a majority of the justices are skeptical of what Mr. Obama did. The Supreme Court's stay will bolster states that took a wait-and-see approach — and likely pushes the big decisions beyond Mr. Obama's tenure and straight into this year's presidential election. —Stephen Dinan, The Washington Times, 9 February 2016
The Pentagon is ordering the top brass to incorporate climate change into virtually everything they do, from testing weapons to training troops to war planning to joint exercises with allies. A new directive's theme: The U.S. Armed Forces must show "resilience" and beat back the threat based on "actionable science." It says the military will not be able to maintain effectiveness unless the directive is followed. It orders the establishment of a new layer of bureaucracy — a wide array of "climate change boards, councils and working groups" to infuse climate change into "programs, plans and policies." –Rowan Scarborough, The Washington Times, 7 February 2016
Things are really getting serious now. There is not only extinction and endless droughts, but there are depressed dogs.  Unprecedented  depressed dogs. The chain of effect goes like this: electric heaters cause climate change which makes winters wetter in England and owners don't like mud, so ipso, ergo, garbo, dogs get stuck indoors, go stir crazy and rip furniture. —Jo Nova, 6 February 2016
Leading pet behaviourists told The Independent that the number of depressed and unsettled dogs they have seen in recent months is unprecedented. Ms Menteith spends much of her time outside walking dogs and has noticed a significant change in the weather in the past five years or so – as cold, crisp winters gradually give way to "constant wet dreariness". She – like many scientists and meteorologists – puts this down to climate change and expects to see more bored dogs in the future as global warming unleashes increasingly frequent and intense bouts of winter rainfall. –Tom Bawden, The Independent, 5 February 2016
1) The Collapse Of El Nino Is Underway
Vencore Weather, 5 February 2016
Paul Dorian
The collapse of El Nino in the tropical Pacific Ocean has begun and it will be rather dramatic.  The current strong El Nino event reached its peak intensity level in December 2015 and all indications suggest it will completely flip to La Nina conditions by later this year.

Change in sea surface temperature anomalies in the last month; courtesy NOAA
This naturally occurring oceanic cycle that produces warmer-than-normal sea surface temperatures (SSTs) in the equatorial region of the Pacific Ocean began in earnest early in 2015 and strengthened throughout the year to comparable intensity levels of the strong El Nino episodes of 1982-1983 and 1997-1998 although the warmest region relative-to-normal set up in somewhat different locations.  El Nino has had widespread consequences around the world and will continue to do so in the near future.  By later this year, colder-than-normal sea surface temperatures are quite likely to appear in the tropical Pacific Ocean as predicted by multiple computer forecast models and this flip to La Nina will also have extensive consequences around the world.
Rapidly changing SST anomalies
The latest sea surface temperature anomalies show noticeable changes from just one month ago across the tropical Pacific Ocean (above).  Specifically, while the sea surface temperatures in that region are still above-normal, they are noticeably less so than just four weeks ago.  This trend should continue over the next few months as sea surface temperatures drop off rapidly in the equatorial region of the Pacific Ocean.


JAMSTEC sea surface temperature anomaly forecast maps for the March/April/May and September/October/November time periods; courtesy Japan Meteorological Agency
Computer model forecasts suggest a dramatic flip to La Nina
Two independently-made computer forecast models depict a dramatic change in sea surface temperature anomalies in the tropical Pacific Ocean between now and late 2016. […]
One of the important consequences of the current strong El Nino event in the equatorial Pacific Ocean was a spike in global temperatures.  The temperature anomaly plot below (courtesy Weather Bell Analytics) shows the trend in global temperature anomalies since 2005 as measured by NOAA's CFSR CFSv2 model.  In prior El Nino events during the past decade (2006-2007, 2009-2010), there were indeed spikes in global temperatures and in each case those temperatures dropped sharply in subsequent periods after La Nina conditions became well-established in the tropical Pacific Ocean.  Global temperatures may continue to stay at well above normal levels in the near term as a result of the current El Nino despite the fact that it has passed its peak intensity level as sea surface temperatures should remain above-normal for awhile.  However, if recent history is any guide, expect global temperatures to drop sharply after La Nina conditions become well-established in the tropical Pacific Ocean – likely during 2017 and perhaps beyond.

Global temperature anomalies since 2005; map courtesy Dr. Ryan Maue, Weather Bell Analytics, NOAA
2) U.S. Supreme Court Blocks Obama's Climate Change Rules
The Wall Street Journal, 9 February 2016
Brent Kendall and Amy Harder
Decision is setback for Obama's climate agenda
WASHINGTON—A divided Supreme Court on Tuesday temporarily blocked the Obama administration's initiative to limit carbon emissions from power plants, dealing an early and potentially significant blow to a rule that is the cornerstone of President Barack Obama's efforts to slow climate change.

The court, in a brief written order, granted emergency requests by officials of mostly Republican-led states and business groups to delay the regulation while they challenge its legality.
Although the Supreme Court's order is temporary and isn't a ruling on the merits, it indicates the court's conservative majority harbors misgivings about the Obama administration plan. It signals the rules could run into trouble in the courts, which could hamper the administration's ability to follow through on U.S. commitments in the Paris climate deal.
The court's action, which divided the justices along ideological lines, came as a surprise to many observers because the court has strict criteria for granting stays. And the Environmental Protection Agency rules, issued last summer, have yet to be evaluated by lower court judges.
The EPA rule is aimed at compelling utilities to shift away from coal-fired power plants, which have been the bedrock of U.S. electricity generation for decades, toward such renewable sources as wind and solar, and to a lesser extent toward natural gas and nuclear power.
Lawyers challenging the EPA rule called the court's move highly unusual. "It is the first time that the Supreme Court has actually stayed a regulation," said Jeff Holmstead, a former EPA air official under President George W. Bush and a lawyer at Bracewell & Giuliani who represents clients suing the agency over the rule.
White House spokesman Josh Earnest said the administration disagreed with the Supreme Court's move. "We remain confident that we will prevail on the merits," Mr. Earnest said.
3) U.S. Supreme Court Halts Obama's Green Crusade
The Washington Times, 9 February 2016
Stephen Dinan
The Supreme Court halted the EPA's major anti-global warming initiative late Tuesday evening, dealing a major blow to President Obama's hopes of overseeing a green energy transition in his final year in office.
The 5-4 decision by the court puts the Environmental Protection Agency's regulation on hold while a lower appeals court hears states' challenge to the rules.
More than two dozen states sued to stop the rules, which were intended to control greenhouse gas emissions from existing power plants.
The EPA called the court's decision disappointing but said it won't stop the agency's determination to press forward.
"You can't stay climate change, and you can't stay climate action," spokeswoman Melissa J. Harrison said. "Millions of people are demanding we confront the risks posed by climate change. And we will do just that."
While Tuesday's stay isn't a ruling on the actual merits of the EPA's regulations, energy industry backers said it suggested a majority of the justices are skeptical of what Mr. Obama did.
The four Democrat-appointed justices on the Supreme Court dissented from the order granting the stay. […]
The Supreme Court's stay will bolster states that took a wait-and-see approach — and likely pushes the big decisions beyond Mr. Obama's tenure and straight into this year's presidential election.
A senior administration official said Obama advisers were "very surprised" by the court's decision, calling it unprecedented to stay a rule that had not been implemented.
4) Bonkers: Pentagon Orders Commanders To Prioritise Climate Change In All Military Actions
The Washington Times, 7 February 2016
Rowan Scarborough
The Pentagon is ordering the top brass to incorporate climate change into virtually everything they do, from testing weapons to training troops to war planning to joint exercises with allies.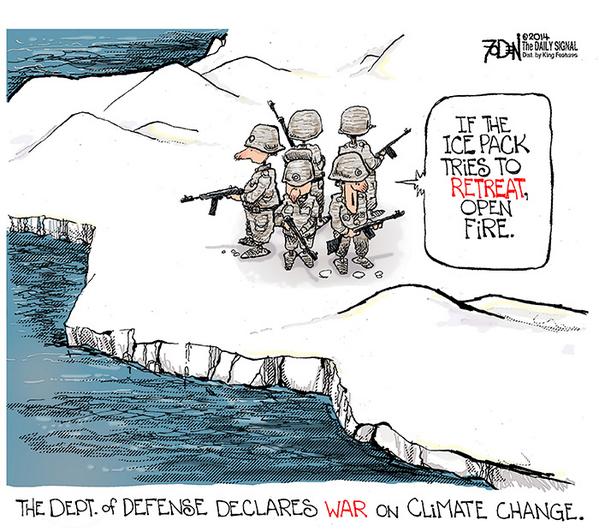 A new directive's theme: The U.S. Armed Forces must show "resilience" and beat back the threat based on "actionable science."
It says the military will not be able to maintain effectiveness unless the directive is followed. It orders the establishment of a new layer of bureaucracy — a wide array of "climate change boards, councils and working groups" to infuse climate change into "programs, plans and policies."
The Pentagon defines resilience to climate change as: "Ability to anticipate, prepare for, and adapt to changing conditions and withstand, respond to, and recover rapidly from disruptions."
To four-star generals and admirals, among them the regional combatant commanders who plan and fight the nation's wars, the directive tells them:
"Incorporate climate change impacts into plans and operations and integrate DoD guidance and analysis in Combatant Command planning to address climate change-related risks and opportunities across the full range of military operations, including steady-state campaign planning and operations and contingency planning."
The directive, "Climate Change Adaptation and Resilience," is in line with President Obama's view that global warming is the country's foremost national security threat, or close to it. Mr. Obama says there is no debate on the existence of man-made global warming and its ensuing climate change. Supporters of this viewpoint label as "deniers" any scientists who disagree.
But there are stubborn doubters. A climate center in Colorado has said its researchers looked at decades of weather reports and concluded there has been no uptick in storms. The United Nations came to a similar finding, saying there is not enough evidence to confirm an increase in droughts and floods.
A previous Pentagon report on climate change attributed Super Storm Sandy to climate change.
Dakota Wood, a retired Marine Corps officer and U.S. Central Command planner, said the Pentagon is introducing climate change, right down to military tactics level.
"By equating tactical actions of immediate or short-term utility with large-scale, strategic-level issues of profound importance, the issue of climate change and its potential impact on national security interests is undermined," he said. "People tend to dismiss the whole, what might be truly important, because of all the little silly distractions that are included along the way." […]
Climate change must be integrated in:
* Weapons buying and testing "across the life cycle of weapons systems, platforms and equipment."
* Training ranges and capabilities.
* Defense intelligence surveillance and reconnaissance.
* Defense education and training.
* Combatant commander joint training with allies to "assess the risks to U.S. security interests posed by climate change."
* Joint Chiefs of Staff collaboration "with allies and partners to optimize joint exercises and war games including factors contributing to geopolitical and socioeconomic instability."
5) And Finally: Bored Dogs, Ripped Furniture – Blame Climate Change
Jo Nova, 6 February 2016
Things are really getting serious now. There is not only extinction and endless droughts, but there are depressed dogs.   Unprecedented  depressed dogs. The chain of effect goes like this: electric heaters cause climate change which makes winters wetter in England and owners don't like mud, so ipso, ergo, garbo, dogs get stuck indoors, go stir crazy and rip furniture.
I presume the answer to this is to sell the car, cancel the heating, and wait for the world to warm for your dog to get happy?
Leading pet behaviourists told The Independent that the number of depressed and unsettled dogs they have seen in recent months is unprecedented.
Carolyn Menteith, a dog behaviourist who was named Britain's Instructor of the Year in 2015, says Global Warming might be causing pets to become depressed:
"I've never seen our dogs or horses this bored before in 20 years.
Yes, this is the worst in recorded history, or 20 years, whichever comes first.
Horses that have lived happily outside before are saying 'I actually can't cope with this mud and wet anymore'…".
For me, the unprecedented thing here is the talking horse.
Is that climate change too?
And most importantly of all, pet owners should worry too much that if their dog is ripping up the house in a bid to find excitement.
If you have a rip in the sofa, don't blame the cat, blame the air conditioner. (Getting the hang of this?)
A large portion of the UK's dog population is behaving strangely at the moment and it's not generally the pet's fault. So rather than being angry with their dog or frustrated owners should try to stimulate them by playing games in the house, Ms Fisher advises
Are you a pet psychologist observing five year climate "trends" — the Tom Bawden Environment Editor,  wants to hear from you:
Ms Menteith spends much of her time outside walking dogs and has noticed a significant change in the weather in the past five years or so – as cold, crisp winters gradually give way to "constant wet dreariness".
She – like many scientists and meteorologists – puts this down to climate change…